Deutsch

Cammy:

CammyPlus:

for Win 2000 / 9x:

GDI+:

(not required for Windows XP / 2003)
Cammy - The Digital Camera Photo Tool

Plug in your digital camera and immediately copy your photos to your PC, display the pictures in full screen, and rapidly edit with ease - Cammy is a program you won't want to miss anymore. It's fun to work with the user-friendly interface providing the best possible overview of your photos in full screen even in thumbnail view.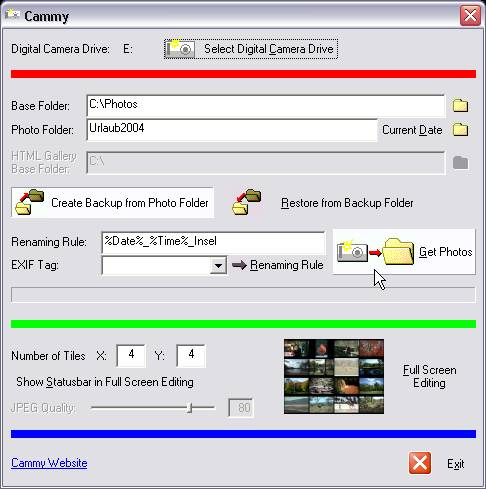 Version
Features
Cammy

Free!

Copy photos from the digital camera to the PC
Automatically rename using EXIF information, e.g. date and time in the filename
Target folder located in a base folder freely selectable
Folder name with current date via mouse click
Backup and restore originals
Thumbnail view with freely selectable tiling in full screen
Display a statusbar with the current photo's path and filename
Three independent markers for photos: red, green and blue. You can mark multiple pictures with each mark color and edit them in one go
Display image operations dialog with the right mouse button
Lossless JPEG operations

Rotate left/right 90° and 180°
Mirror horizontally and vertically

Delete photos
View and edit a photo in full screen via double click
Leaf through the photos in thumbnail and single photo view

CammyPlus

Good value! (buy here)
Functions like Cammy, but additionally:

Image processing functions

Brightness
Contrast
Sharpness
Gamma correction
Saturation
Grayscale
Negative image

Photo functions

Crop to photo formats (7x10, 9x13, 10x15, 13x18, 18x24, 20x30)
Free cropping
Noise reduction
Red eye reduction
Resizing, optionally keeping aspect ratio (resizing without distortion)

HTML photo album for your web page

Title
Tiling freely selectable for thumbnails and photos
Size of thumbnails and photos freely selectable

eMail functions

Send photos via eMail*
Packet function: fit multiple photos to a specified size by automatically changing the resolution and JPEG quality, then create a ZIP archive for easy shipping

* This function will be added later in a free upgrade.
Buy CammyPlus shareware